How to become a ski instructor
TIPS FOR STARTING A CAREER IN THE WORLD OF A SKI INSTRUCTOR.
Many people who enjoy outdoor activities are excited to share the thrilling and exhilarating winter sport of skiing with others. If you have a passion for skiing and enjoy sharing your knowledge with others, pursuing a career as a ski instructor could be a great option for you.
In this blog post, we will go over the steps and qualifications required to become a ski instructor. The profession is very diverse and it requires certain skills to properly teach beginners and advanced students.
WHY BECOME A SKI INSTRUCTOR?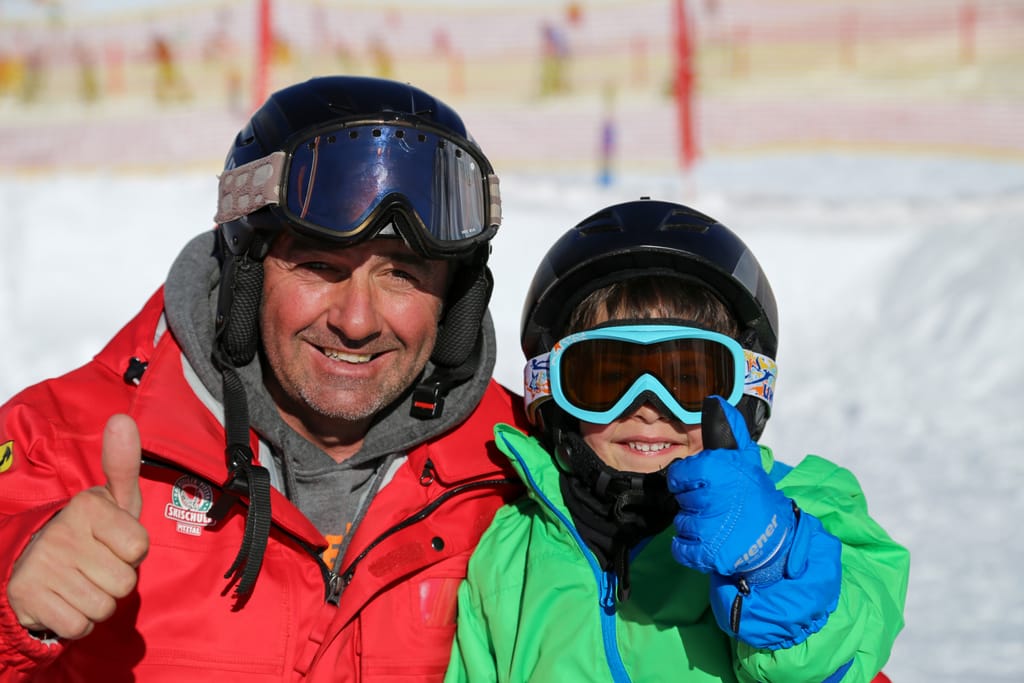 Becoming a ski instructor can be an exciting and fulfilling career choice for many reasons. On the one hand, you can share your passion for skiing with others and help them improve their skiing skills. It's also a great way to enjoy life in the mountains and meet new people.
Work with us at the Hochzeiger in Pitztal and experience the family atmosphere both in the ski school and in the entire ski area. We also offer numerous benefits for our employees.
Do you love flexibility and variety? In this case, too, becoming a ski instructor is an excellent choice. Choose to work full-time or part-time, work only on weekends or only on holidays. This flexibility can be particularly useful for students or working parents.
QUALIFICATIONS AND TRAINING REQUIRED TO BECOME A SKI INSTRUCTOR?
In principle, our ski school only employs ski and snowboard instructors who have recognized ski instructor training in accordance with the Tyrolean Ski School Act:
The training levels of the ski instructor:
Children's ski instructor/children's coach
Ski instructor candidate/snowboard instructor candidate
State ski instructor/state snowboard instructor
Diploma ski instructor/Diploma snowboard instructor
Ski guide/snowboard guide
The minimum age to become a children's ski instructor is 15 years. We offer this training within the ski school and free of charge for our employees. After completing this course, you will be allowed to teach children in the "beginner" and "slightly advanced" range on open ski slopes.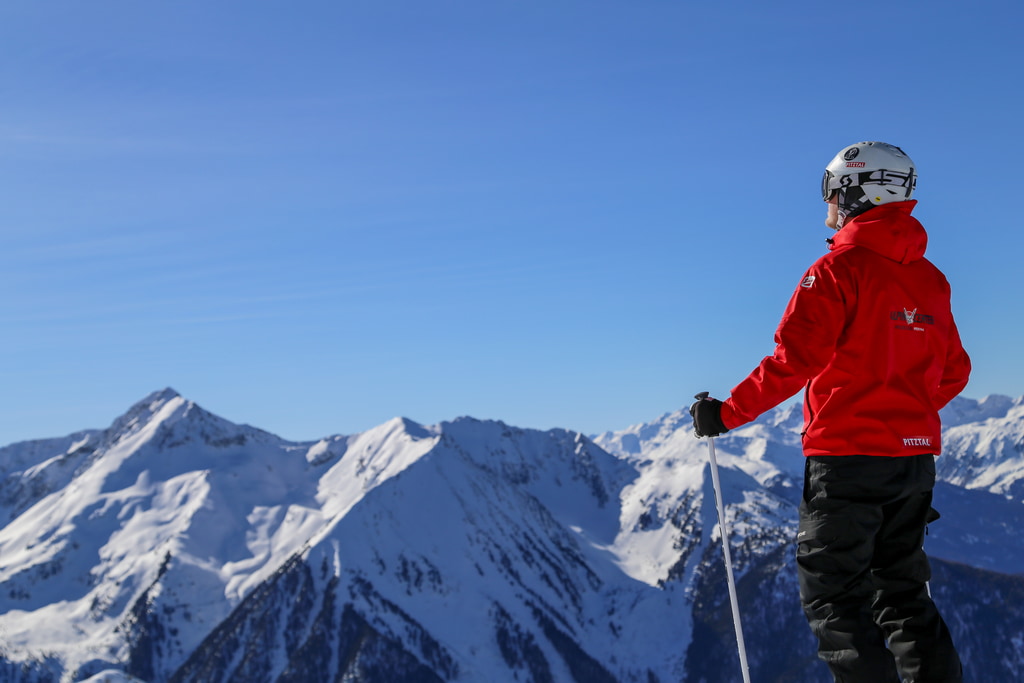 For the next level – ski instructor candidates – the minimum age is 16 years. The training is carried out by the Tyrolean Ski Instructors Association. Some of our ski instructors also work as trainers as part of this training. After successfully completing the final exam, you can now also teach adults.
Now it's time to stay on the ball. During the winter season, we continue to educate ourselves as ski instructors. We learn every day when giving the ski course how we can do it better and during the weekly ski instructor training, you improve your own skills on skis with the help of experienced ski instructors, the correct use of aids, the recognition and correction of mistakes are trained and also Foreign language skills are learned and practised. As a ski instructor you not only have to be able to ski well, but you also need many other skills and a "good" way of dealing with people.
LOOKING FOR A JOB AS A SKI INSTRUCTOR
We already mentioned earlier in the text that the job of a ski instructor is very flexible. Students, working parents, housewives, etc. appreciate the flexibility that this job brings. In addition, you can work where others go on holiday, you can enjoy exercise in the fresh air and you can celebrate successes together with "your" students.
Are you interested and would like to find out more? Then apply now on our homepage. For more detailed information, please feel free to contact us by phone at 0043 (0)5414 86910 or by email at mitarbeiter@skischule-hochzeiger.com.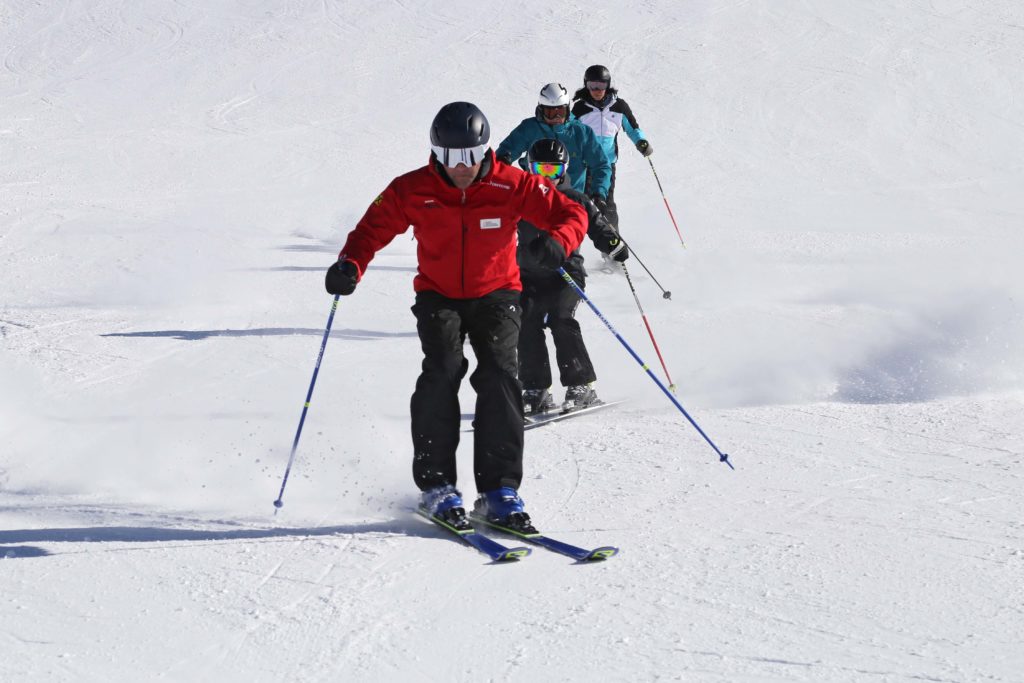 CONCLUSION – IS SKI INSTRUCTOR THE RIGHT CAREER FOR ME?
The job of a ski instructor is very flexible and fulfilling. If you love skiing and enjoy teaching, then turn your hobby into a career. Furthermore, you not only have good skiing skills but also good communication skills and enjoy dealing with other people. Enjoy all the advantages of the job and also the many benefits of our ski school.
Take the step and apply to us now as a children's ski instructor, ski instructor candidate, etc. We would be happy to help you register for the various training courses!
You might also be interested in: